Greetings, Chosen!
It's party time! Patch 0.14 reimagines the Catalyst Black social experience with the introduction of parties. Squad up with friends to take on players and creatures alike — coordinating strategies and sharing the best moments in the process. Invite friends already online or share a unique drop-in URL outside of the game to get your team going.
Both the Play Menu and Social Hub have also been overhauled, individually following a new art style and together elevating the game's social features. After checking out what's new below, find other players to party with on our Discord.
— SeanLagged
Note: If the 0.14 update is not available for you presently, it will be rolling out to the Secret Service and geo beta regions as quickly as the team can manage. Thank you for your patience. 
---
Parties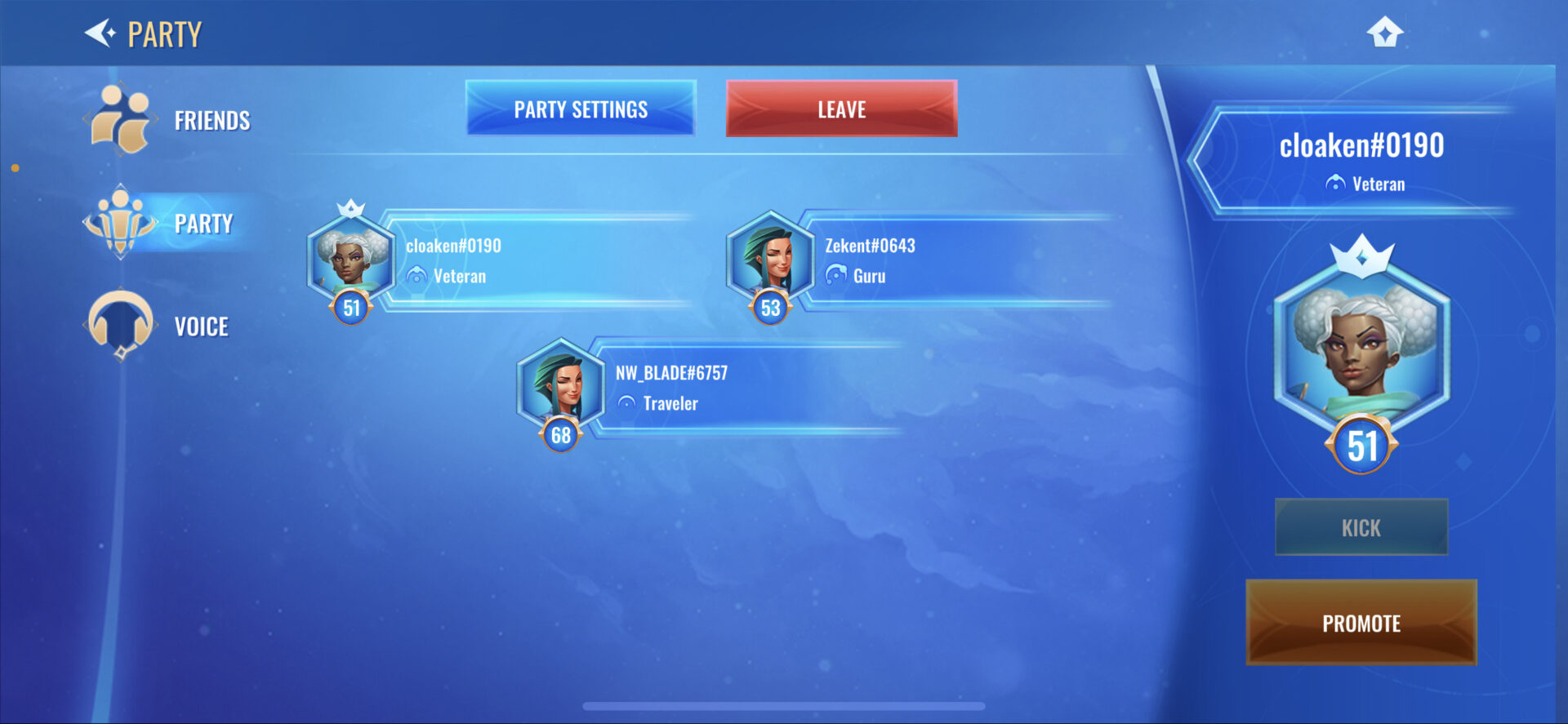 At long last, parties are here! Parties accommodate up to three players and place members on the same team, unlocking the opportunity to fight alongside your closest allies. Upon being created, parties generate a unique code that can be entered by others to join. Alternatively, share the unique party URL — allowing players to launch the app and drop-in on the party with just a link.
Open Parties can be shared by all party members and dropped-in on by their friends, while Closed Parties are invite-only by the captain. Whether you're striving for the next Honor Rank or catching up with friends, parties double-down on the flexibility of Catalyst Black's competitive and casual experiences.
Additionally, to streamline gameplay coordination and reinforce the social nature of this feature, voice chat is now exclusive to parties.
---
Play Menu 2.0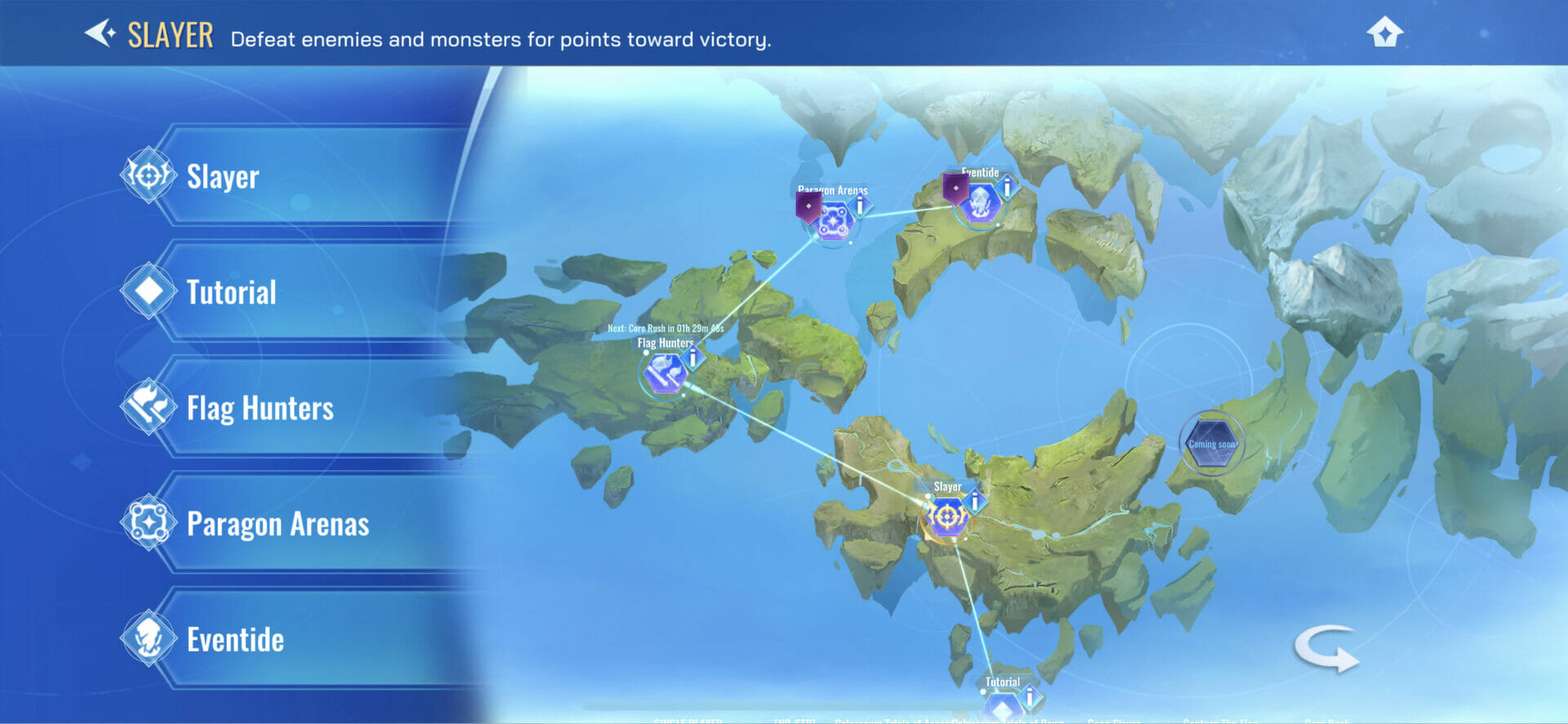 The Play Menu has received a visual overhaul, now set against the backdrop of the Welkin Isles. As new modes are introduced, expect the lands to grow.
---
New Social Hub
To accommodate the growing feature set, there's a new Social Hub on the main menu. Start a party, access your friends list, and change voice chat settings — all in one place.
---
Minor Changes
Based on your feedback, the Harvest Quest rewards have been updated to provide refreshed incentives for this progression avenue.

PLEASE NOTE – for Agents in the Secret Service – these new quest rewards will show in the UI for the Service build, but the rewards themselves will not update until the release of the geo beta client. If you'd like to ensure you receive new Harvest quest rewards, please wait on completing quests until the platform clients are in the wild.

Starlit items now rotate weekly. Keep an eye on which pieces of gear have increased drop rates!
Squashed bugs! 🐞
---
Balance Changes
DEV NOTE: Great news! We've discovered and fixed a pesky reactivation delay bug that was causing many weapons to fire 0.1 seconds slower than intended. This bug impacted Assault Rifles and SMGs the most, as they fire much faster than other weapons (Miniguns were unaffected due to the unique way in which they function).

 

As a result of this fix, all weapons started firing 0.1 seconds faster. So, in order to maintain the stats as they were previously, the reactivation delay of all weapons has to be increased by 0.1 to compensate.

 

Assault Rifles and SMGs will not be increased by 0.1 because they were always intended to have a 0.1 reactivation delay, but were actually operating at 0.2 (making them much worse than intended). Don't be alarmed if you notice your favorite weapon's reactivation delay has increased! It will still function the same, unless otherwise mentioned.
---
Assault Rifles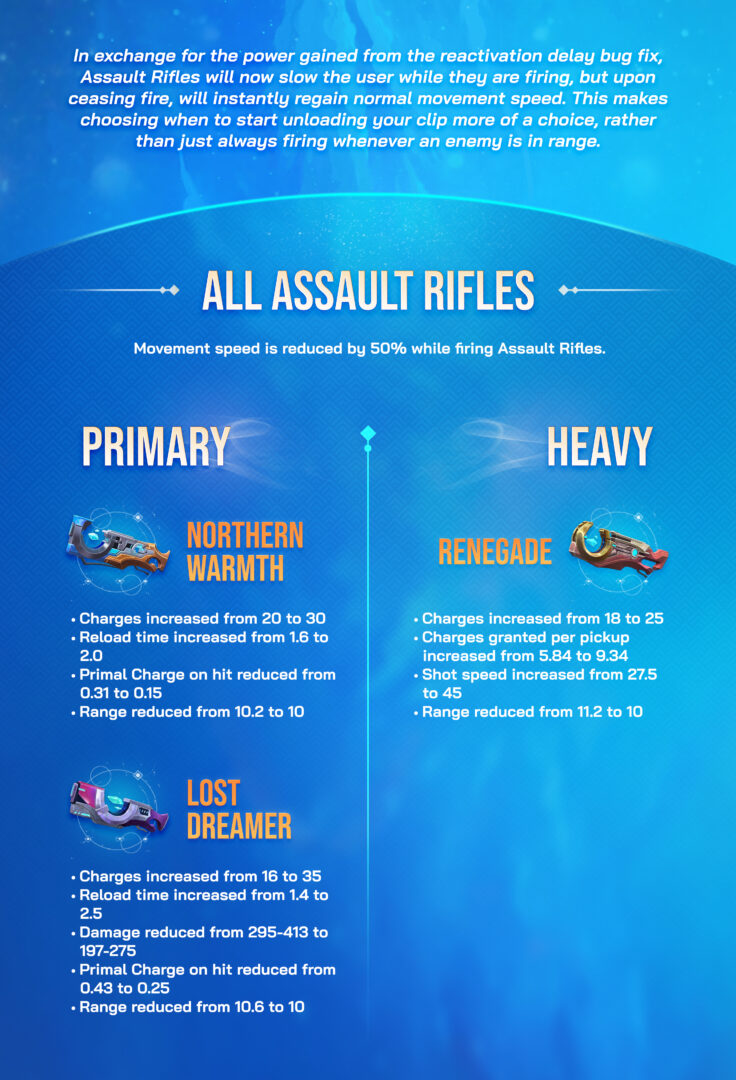 ---
Battle Rifles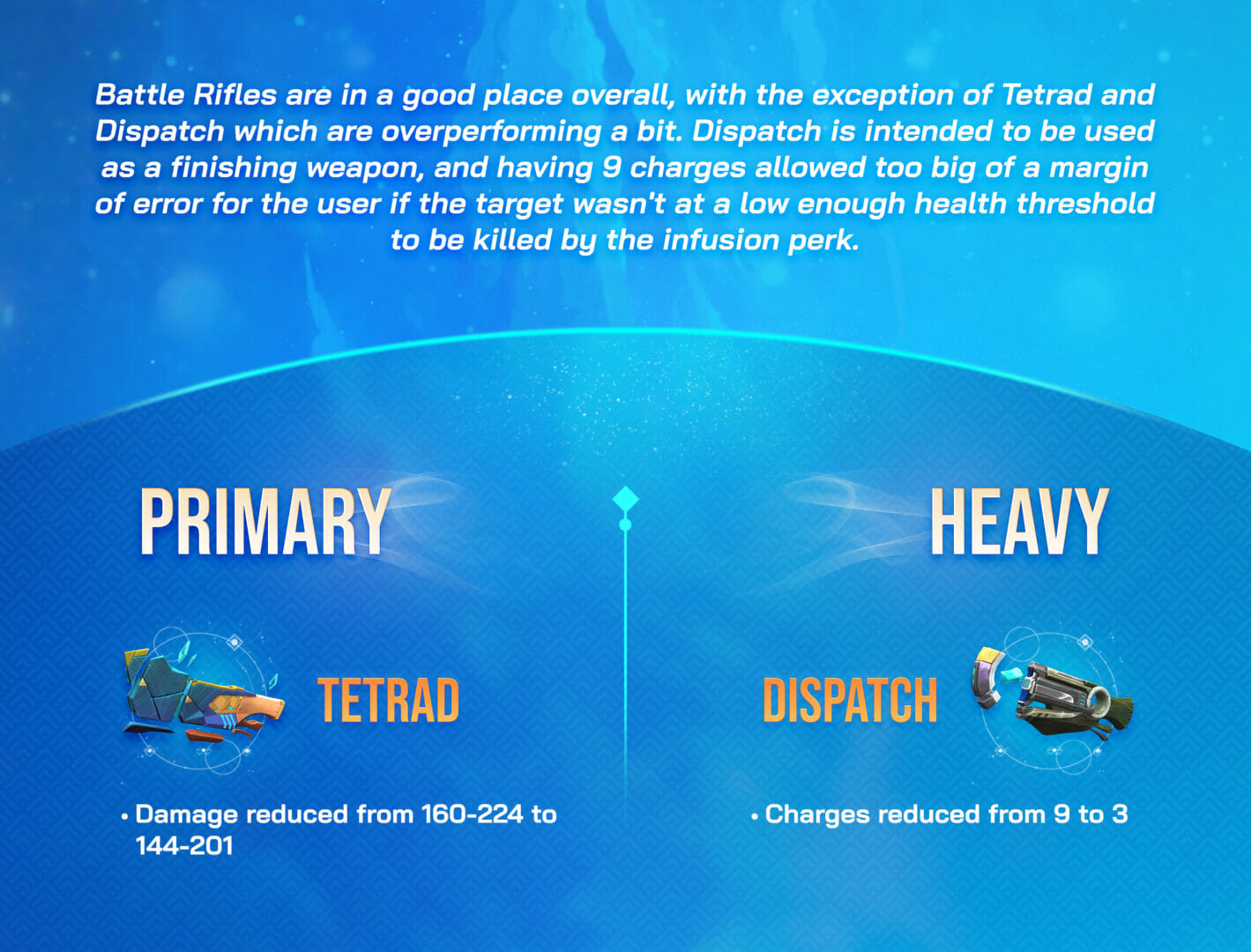 ---
Dual Pistols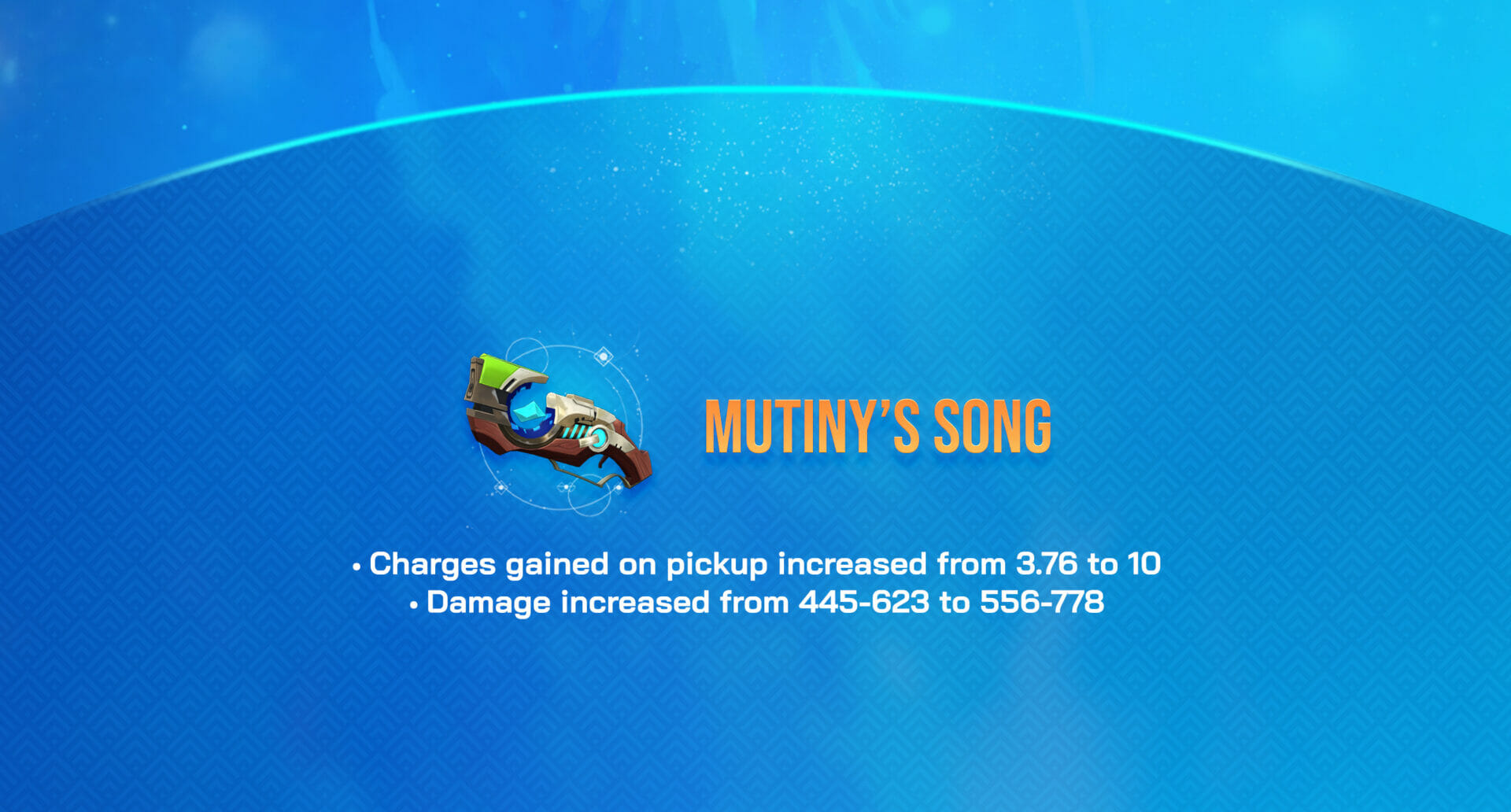 ---
Flak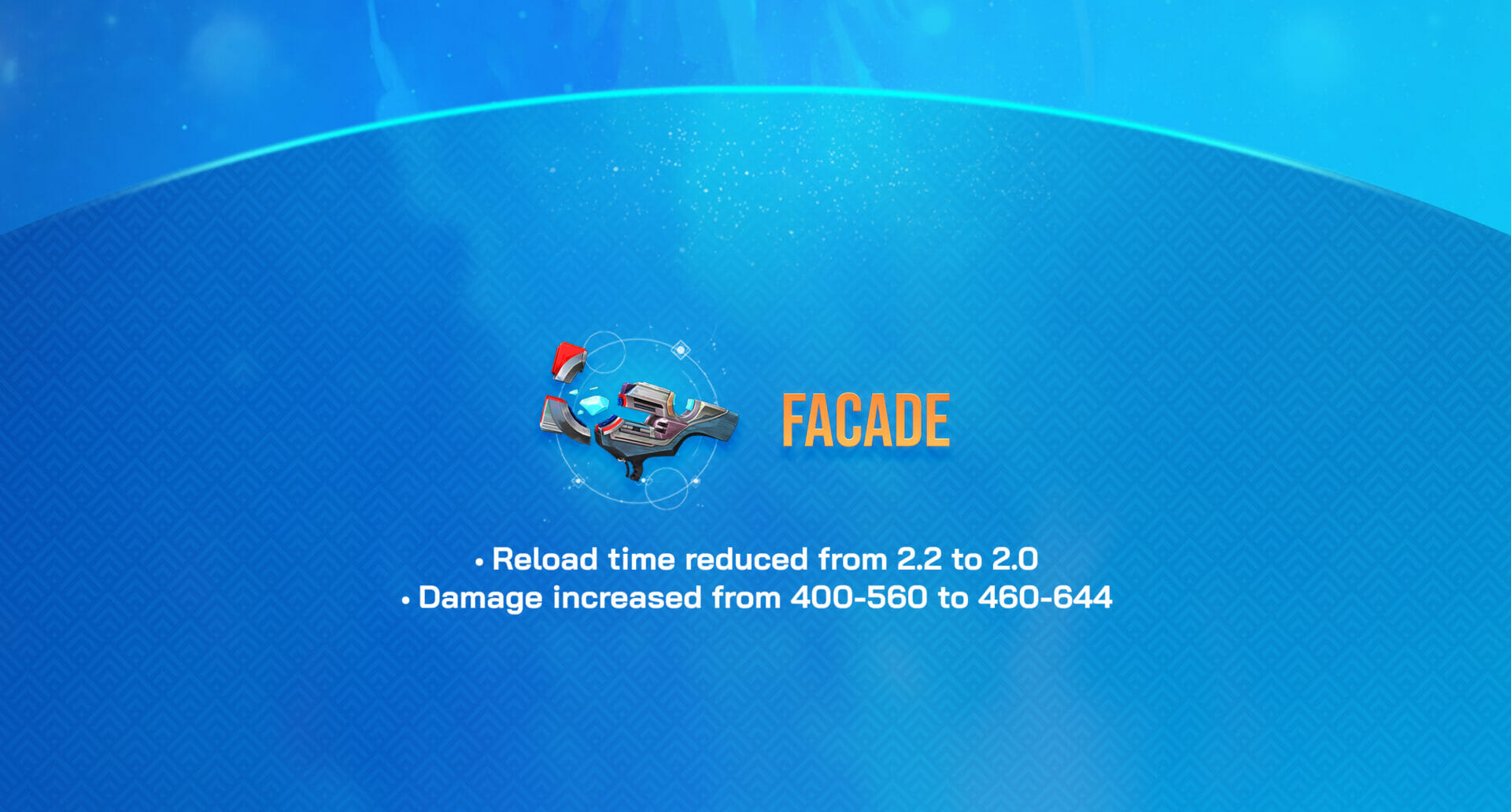 ---
Flamethrowers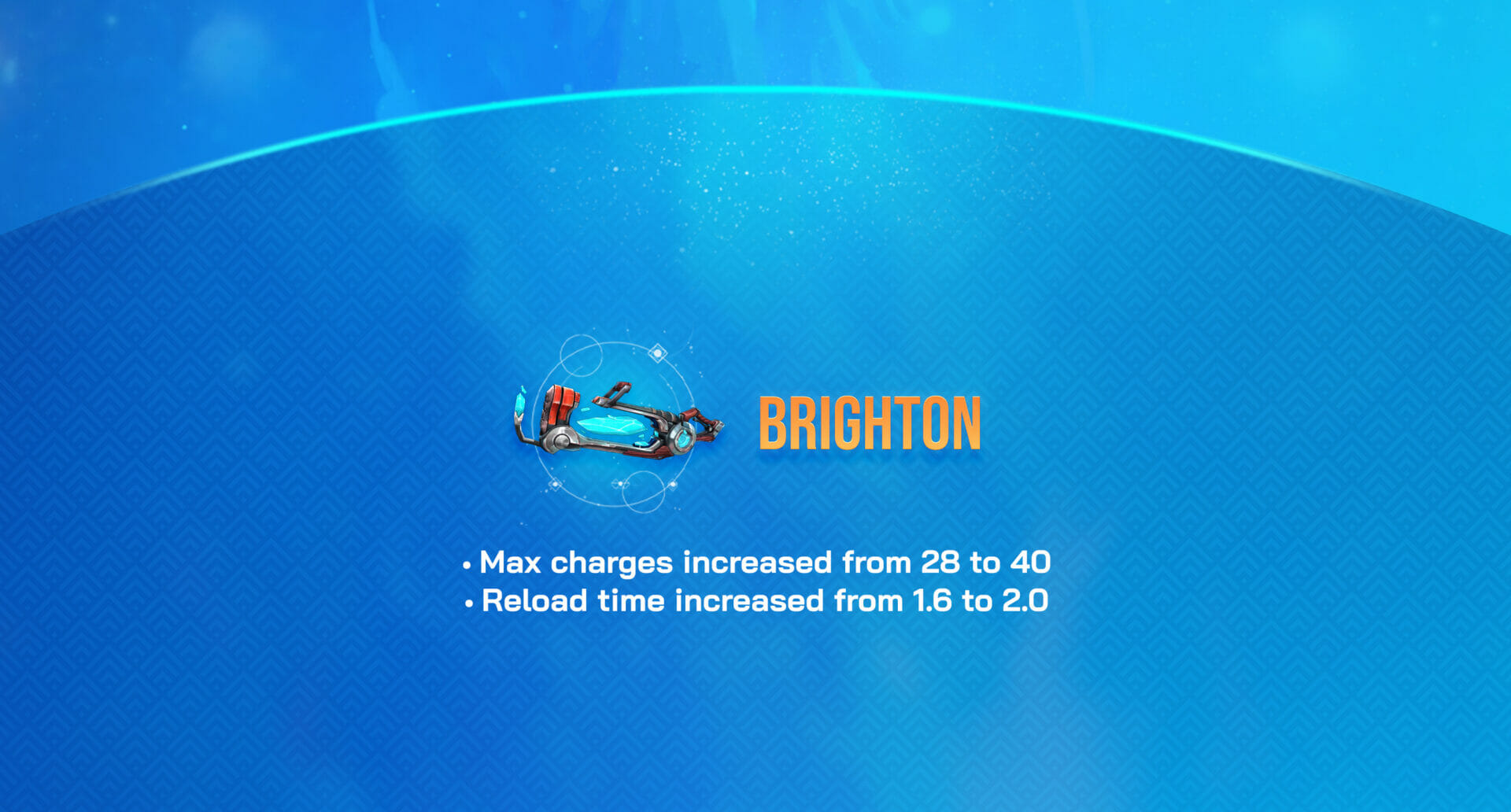 ---
Miniguns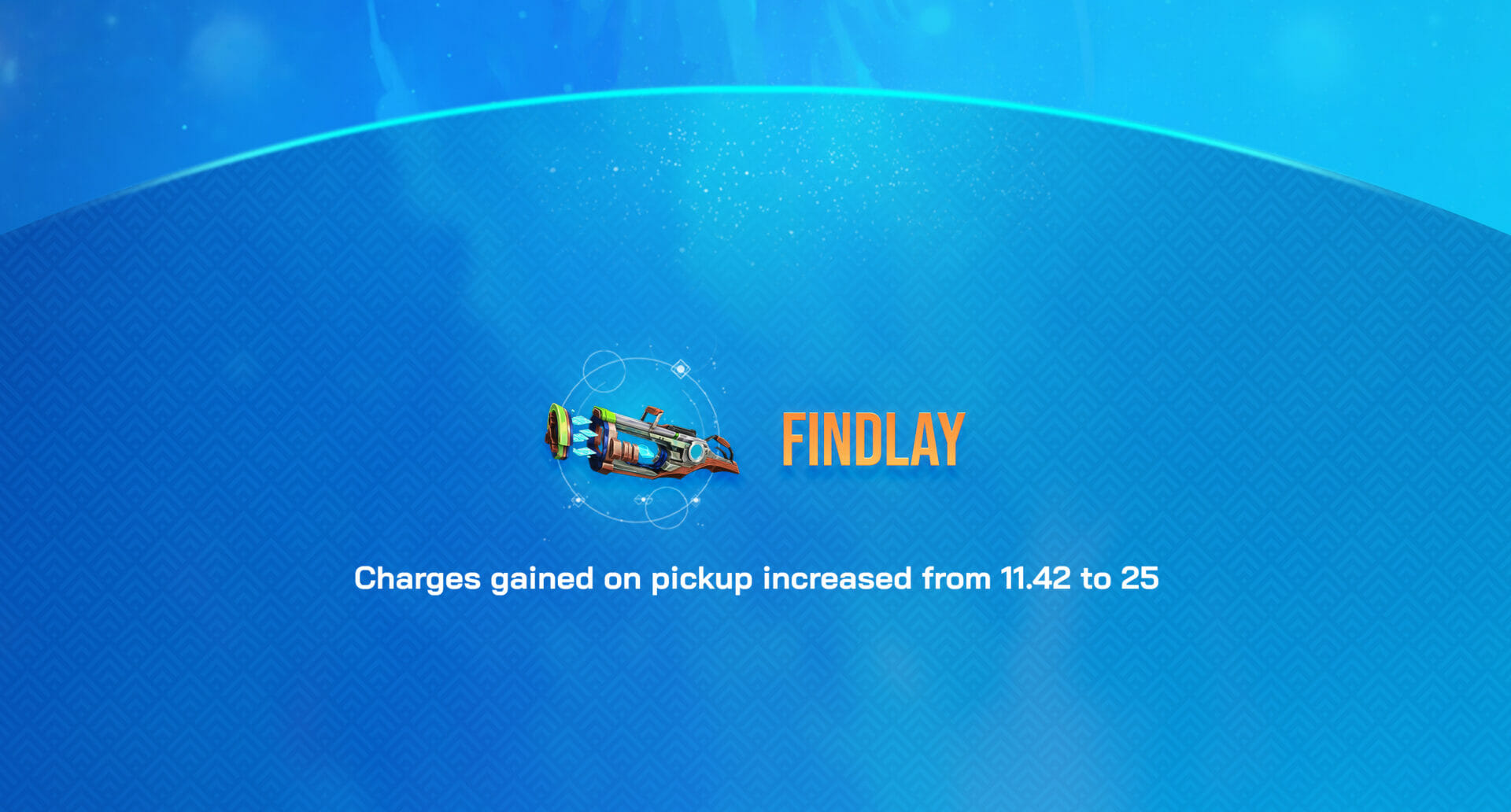 ---
Mortars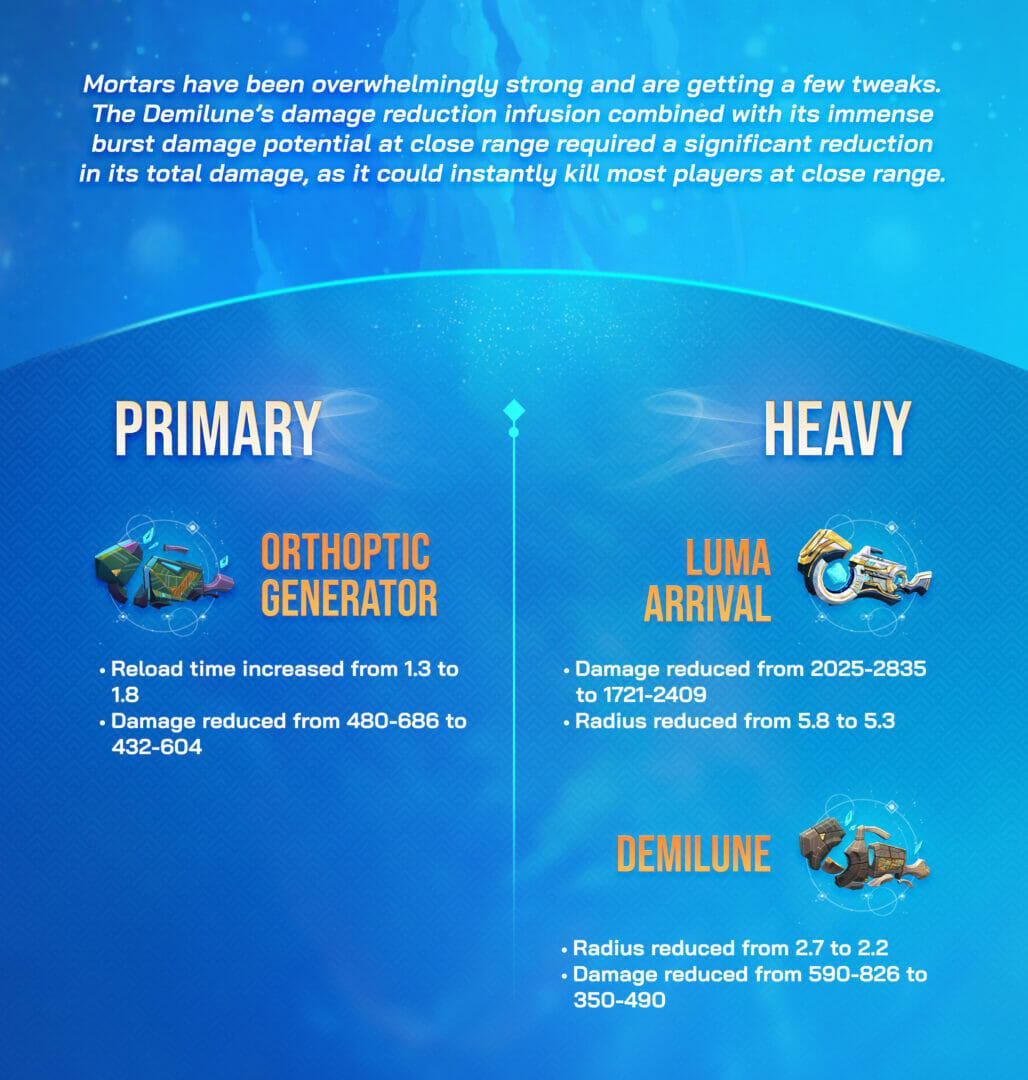 ---
Rocket Launchers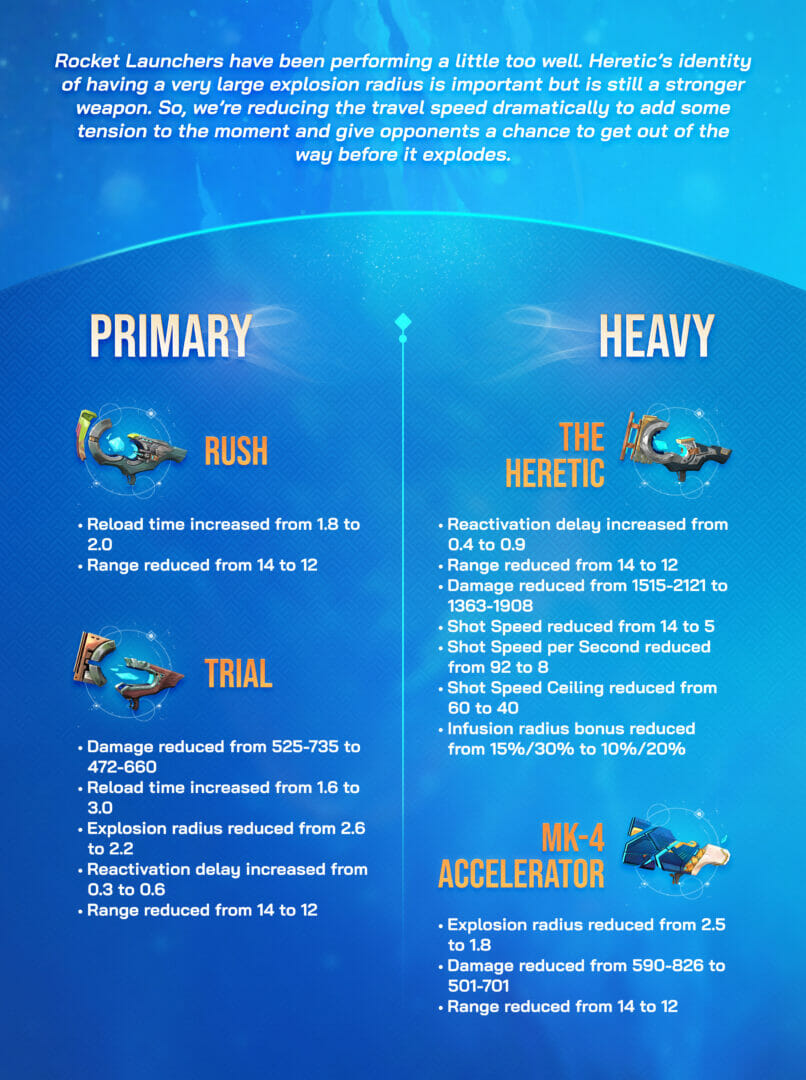 ---
SMGs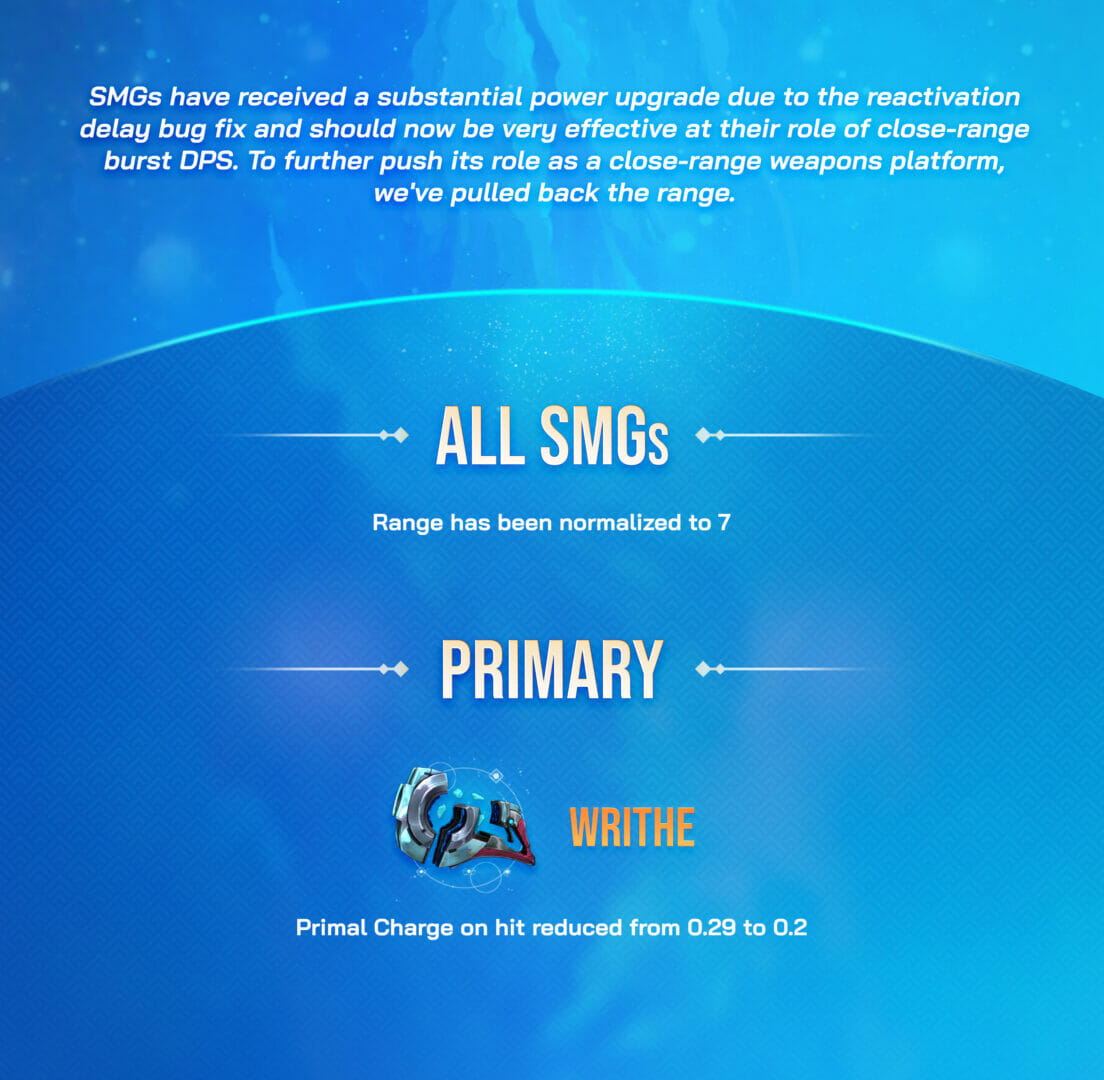 Shotguns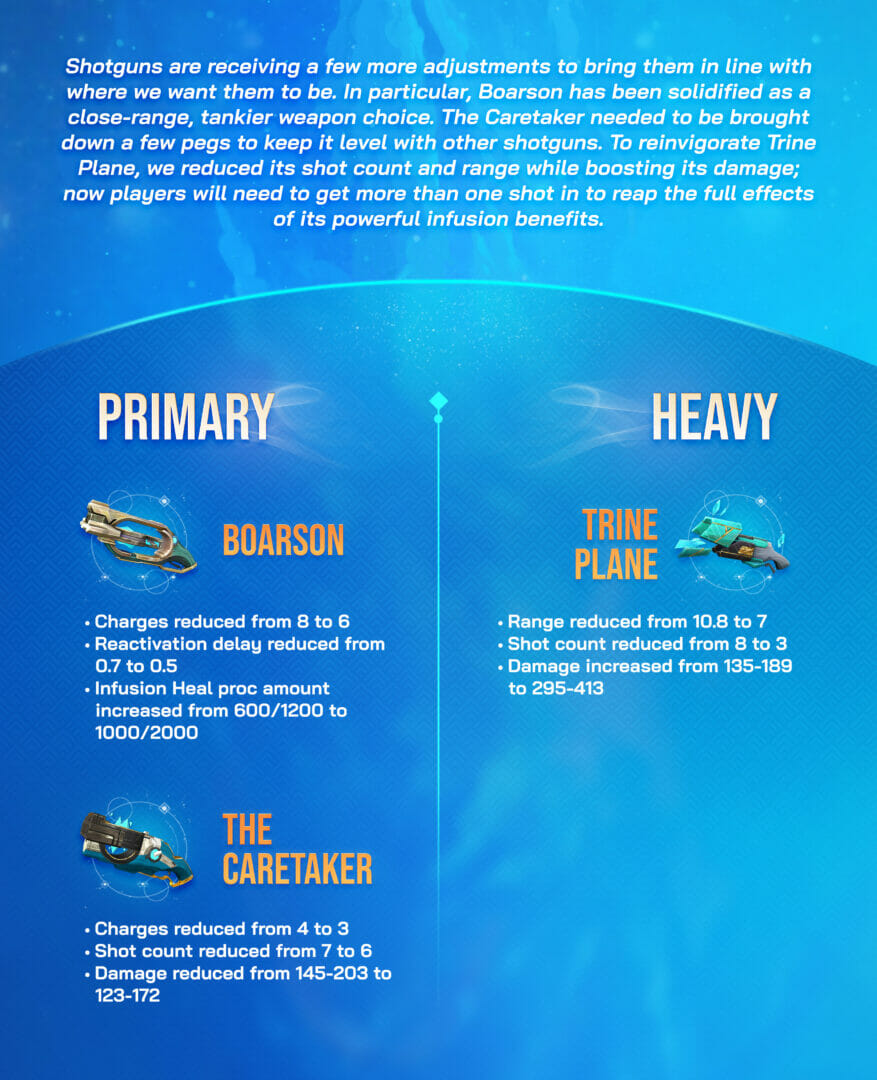 ---
Sniper Rifles