Greetings, Chosen!
It's time to welcome Enai, the Primal Huntress! An old Kyrian myth tells of Enai, an ever-watchful eye that would come to the defense of humanity when others of the primal realm overstepped their rightful place. Think twice about when and where you transform — Enai's bow and arrow leaves no foes behind.
For your gunplay, Paradigm enters as a Rocket Launcher under the Primary Weapon category, firing two powerful blasts back-to-back. Oh, and that's right. We also have saved loadouts! Find your favorite pieces of gear and easily switch between three loadouts instantly. Share the best picks on our Discord.
There's a lot to digest, so let's just get into it.
— SeanLagged
---
Enai the Primal Huntress

The primals are in danger… Introducing Enai, a graceful archer here to keep the other primals in check with swift damage from a distance! Her main attack is a skillshot bow and arrow that can pass through all enemies in its path.
Enai's Relics provide two stark advantages centered around primal combat. With Veilwalker, Enai's Power is instantly reset upon dealing damage to another primal. Select your Power carefully, and use this to its fullest extent. Hunter's Plight takes a more defensive approach, restoring her to full health upon killing an enemy primal. Work with your team to secure the last hit.
Taking a look at Enai's Powers unveils two significantly different playstyles. Mystic Step teleports Enai a distance, including through walls and other obstacles. The mobility allows her to stay on the outskirts of fights, keeping enemies like Issia and Sunder at a comfortable distance while laying fire. On the other hand, Spirit Blast goes all in on the offensive, dealing damage and marking enemies in a target area. Marked enemies take bonus damage from Enai's next arrow.
Buy the Enai quint bundle in the shop for 25% off, unlocking her Mask, Powers, and Relics up to six times!
Health: 8500-11900
Damage: 1450-2030
Movement Speed: 6.5
Range: 18
Attack Cooldown: 1s
Cooldown: 200s
---
New Primary Weapon: Paradigm

Paradigm joins the Primary Weapon category as a rare Rocket Launcher that fires two shots back-to-back. On the Primal Hunter path, Paradigm is a powerful, long-range weapon capable of taking down multiple enemies quickly. By firing two shots at once, a direct hit has the potential to unleash massive damage. Infusions grant a wide array of bonuses for your Ability, including primal energy upon activation and increased movement speed.
New quests have been added to unlock Paradigm for free!
Damage: 850-1190
Clip Size: 3
Range: 13
Detonate Radius: 2
Primal Energy on Hit: 3.33s
Reload Time: 2s
Reactivation Delay: 0.7s
---
Save Your Loadouts & Go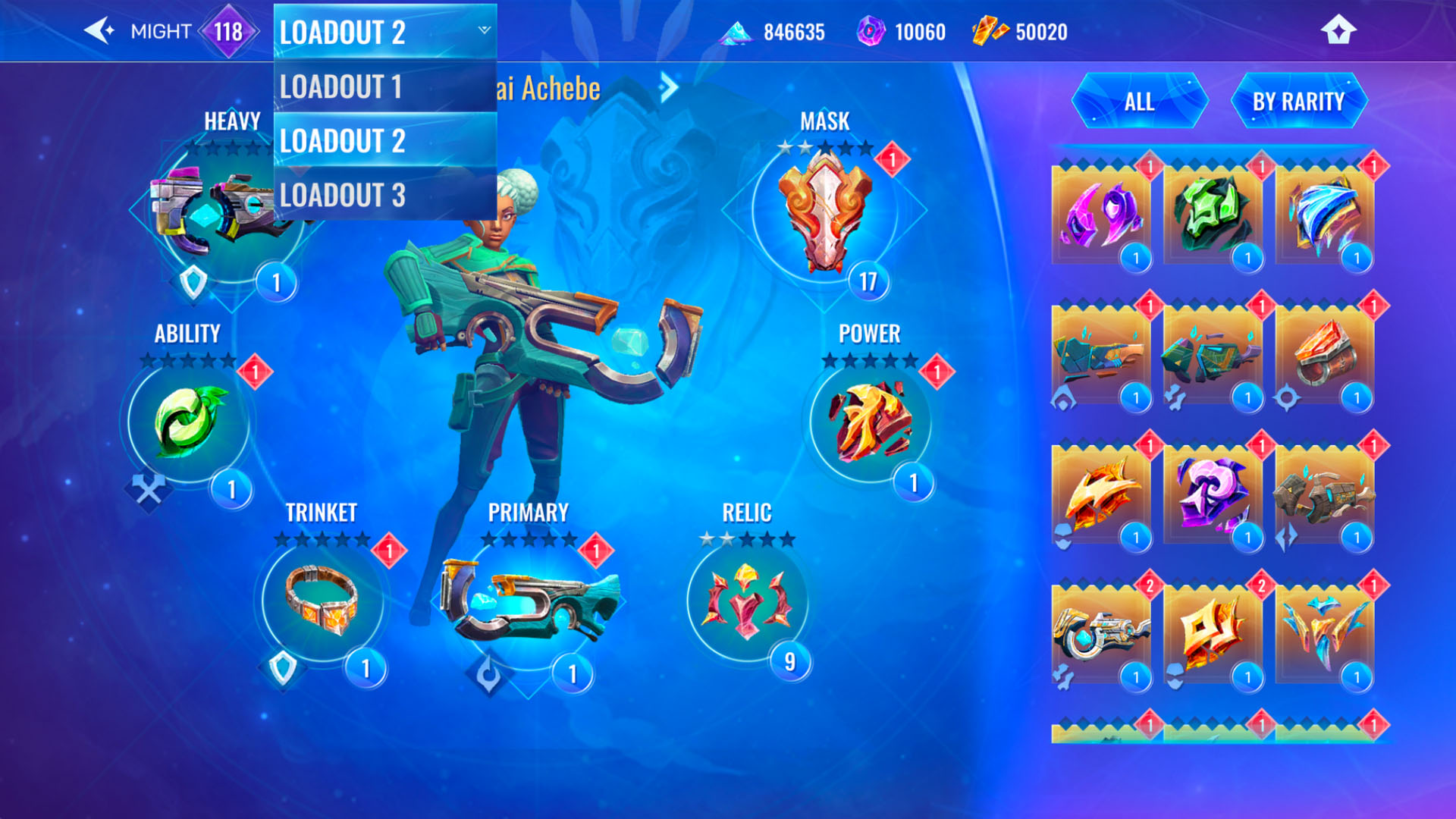 Yeah, you read that right! You can now save up to three loadouts that you can switch to in one tap (it's really two, 'ya got me). We know each mode calls for a different build, and players love trying out new playstyles. Practice dozens of new gear combinations, then save the ones you rock with the most.
---
Gear Auto-Infusion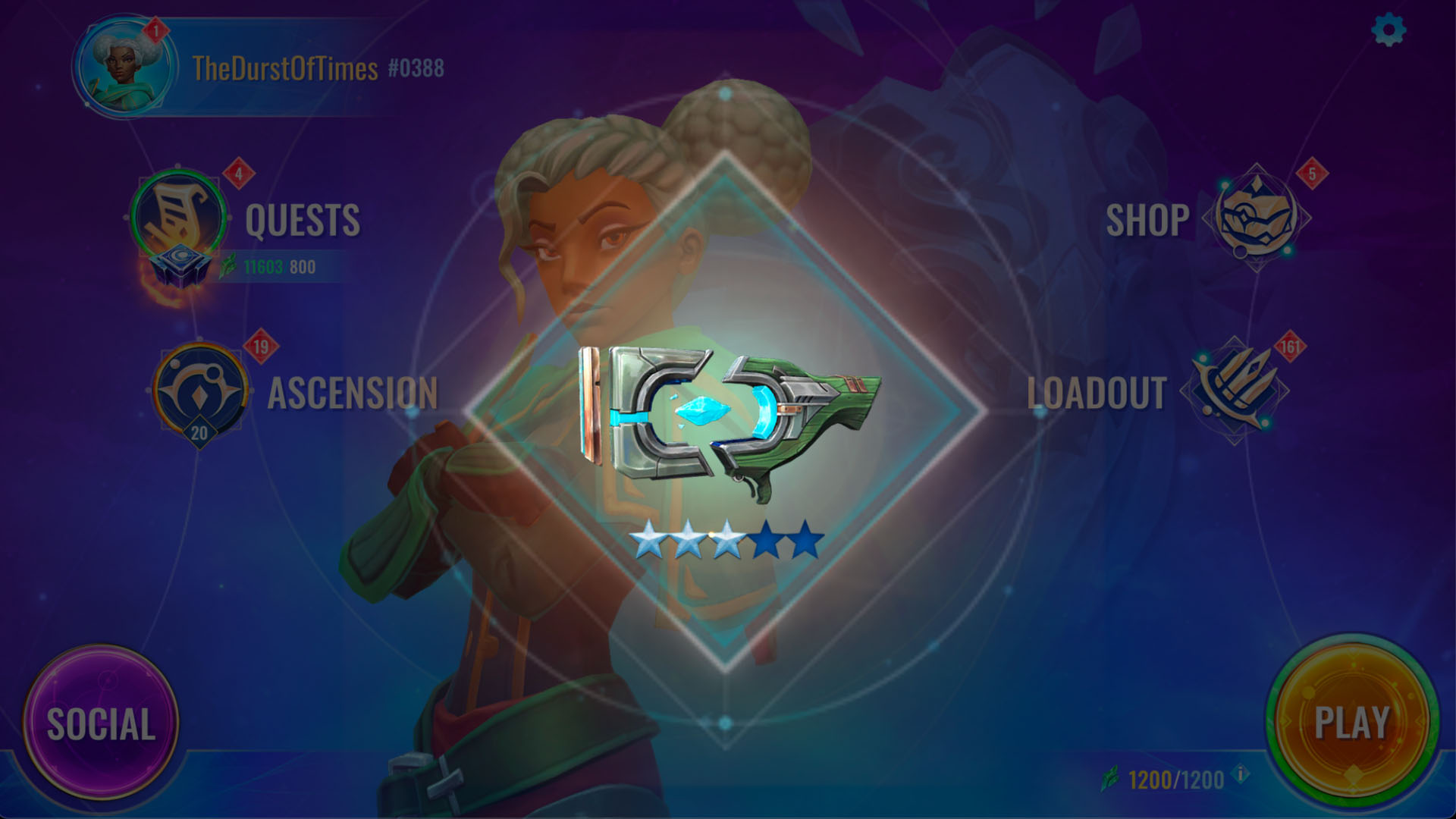 Infusing shouldn't feel like work. That's why gear now automatically infuses when you have enough duplicates! A helpful popup will display when you have a new infusion, reminding you that your gear just got that much better.
---
Minor Improvements
Primal Eye's Primal Charge on Hit has been decreased from 6s to 4s.
A new chain of quests that require you to log in each day have been added.
Added upgrade paths for all Relics and Powers.
Characters now have their names proudly displayed in the loadout menu! As it turns out, the blue guy is not named SeanLagged.